Discussion Starter
·
#1
·
well I am on a roll this year and got me my biggest deer ever with a bow or firearm. Nice 9 pt and weighed 175 lbs. I got on my stand around 4pm and sat around and kept up with the football scores on my phone and was sweating badly and when the sun got down behind the trees I grabbed my bow off the hanger and put it in my lap where I normally have it and put the video glasses(phazzers.com) on and all of a sudden I heard something coming up right behind me and looked to my right and could see that it was a deer but had no idea that it was a big 9pt. I moved my bow up to shooting position and hit the side of my stand and he sorta spooked and I got worried and he put his head back down and I drew back and let him have it. He was quartering away from me and I hit him perfectly right behind the right shoulder and when I found him(thanks to Bo the dog) I found out it came out straight through the sternum destroying the insides. I shot around 5:45 and got down at 6:15ish and found blood and marked it and went back to camp and waited for a while and took Bo back out there and he hit the trail hard and only messed up once(his first tracking job ever) when he went straight and the buck turned but we sound where he turned and he went straight to him. only ran about 75 yards. here are some pics of him and some a re a little gruesome. while skinning him I found my lighted knock inside him and it was still glowing.
great day in the woods with a bow.
here are some pics and when I figure out the video I will post it as well.
Me and Bo the official deer dog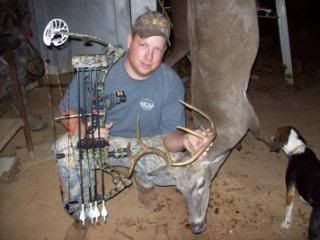 entrance wound
exit wound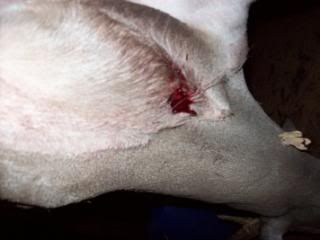 lighted knock---left out the pic with the flash it is a lil bloody