Discussion Starter
·
#1
·
The Internet is an amazing thing. It allows hunters and firearms enthusiasts across the world to communicate as easily as if they were next door to each other. I like to browse several sets of forums and I was browsing though a U.K. deer stalking site when I came across a message posted by a Dutch hunter. He did not join the forum but posted as a guest. He asked if there was anyone on the forum who would sell him some deer stalking in Scotland or England or perhaps trade for some wild boar hunting in Germany. Now I already enjoy wild boar hunting in Germany and I am fortunate enough to have some red and roe deer hunting land in Scotland, so I could understand why a Dutch guy, who lives in a country where hunting is very much restricted, would want to hunt the Scottish Red Deer. There was just something about the post, and I cannot say what, that made me post my E-mail address with an invitation to contact me.
He did and we exchanged some information about our interests. Marcel is a High School Principal with a passion for hunting. He has hunted roe deer, wild boar, chamois and caribou, in Iceland. He is fluent in German as well as in English and other than his small area for hunting in the East of Holland he mainly hunts in Germany, just to the South of Berlin.
Suffice it to say, we got on well enough by E-mail for me to subscribe to SKYPE, and through SKYPE'S free voice calls over the Internet, we started to have weekly conversations. Being cautious as one should be, my buddy Iain, who with two other buddies shares my deer lease, thought we should go and meet our new Dutch friend and his German friend, who would come to Scotland with him.
We drove over to Holland and met with Marcel. We got on just fine. He showed us his hunting ground and introduced us to his friend Benny, who manages a country estate. Benny is an African plains game hunter and seeing his trophy room was a real experience. As well as African game, he has hunted pronghorns and bison in the USA and collected himself some great trophies.
A further drive to Berlin and we met up with Andreas and Dieter, Marcel's German hunting buddies and both as keen hunters as the rest of us. We did go out for a hunt one morning but alas, no wild boars were about. We did lend a hand with some high seat repairs though. But hunting was not the reason for the visit. Seeing if we all got along was the purpose. Well, we did and Iain and I left with an invitation to return to Germany on 30 April, to attend a little party, prior to the start of the roebuck season on 1 May.
Tradition says that the hunters of the district meet up on the afternoon of the 30 April at the hunting lodge, bringing food, beer, schnapps etc. and have a party. This party lasts till everyone is tired and goes off to their cars to sleep. Before first light we are off to the hunt. Iain and I did return for that party and it was nothing short of terrific. We enjoyed wonderful food, beer and hospitality. A real "Jager" welcome from each and every hunter there.
Party Starts.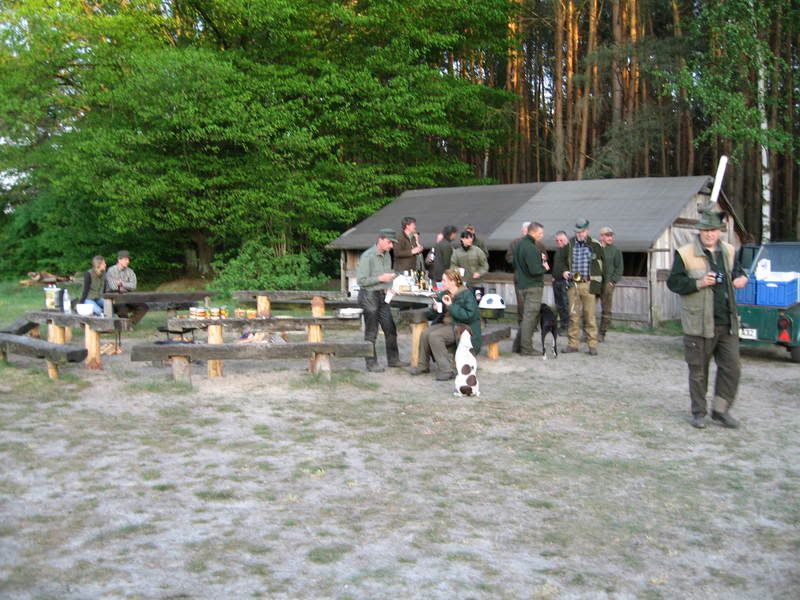 The Hunting Lodge.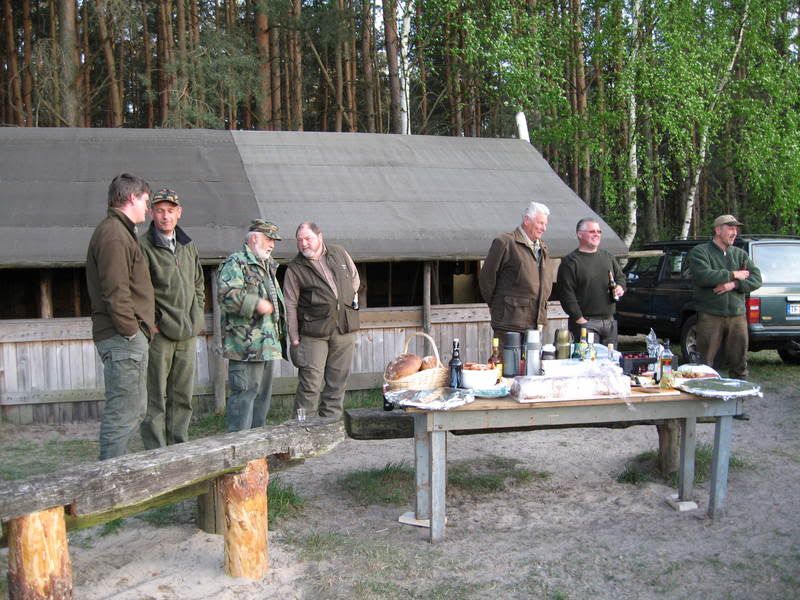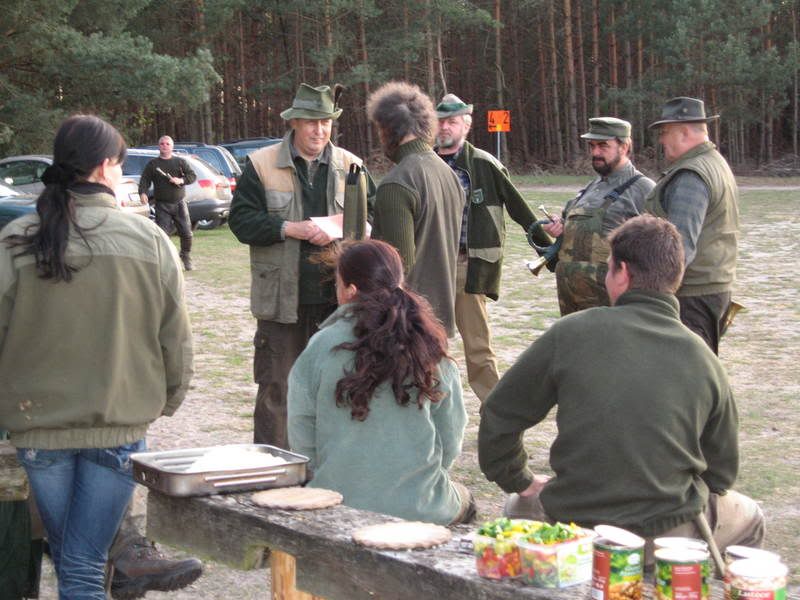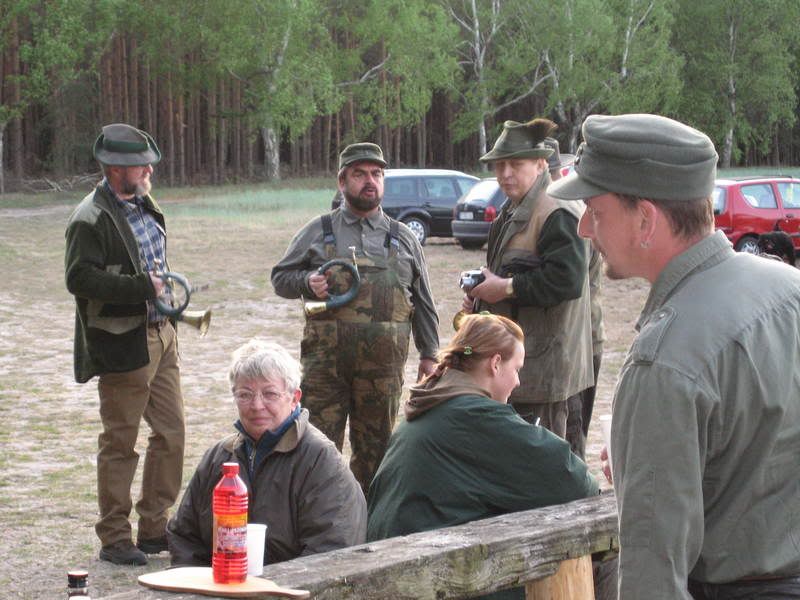 Horn Players practice.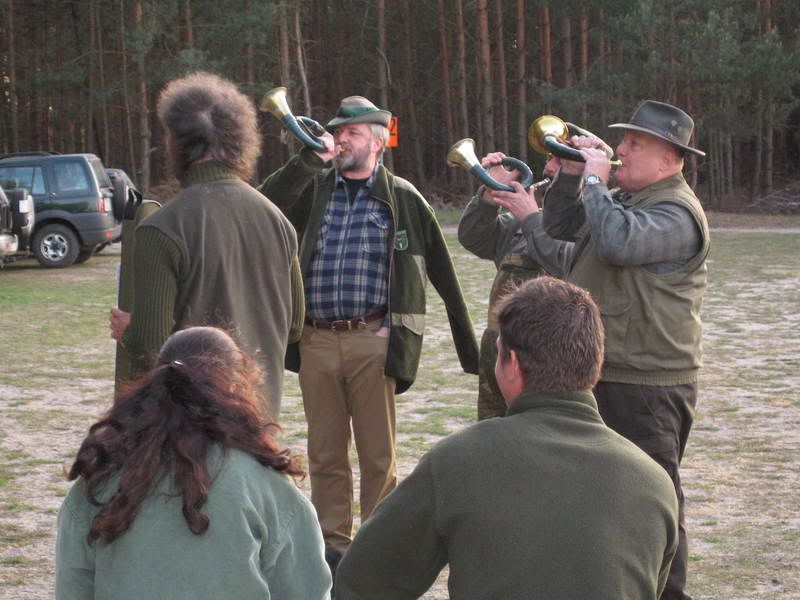 Dieter starts to cook.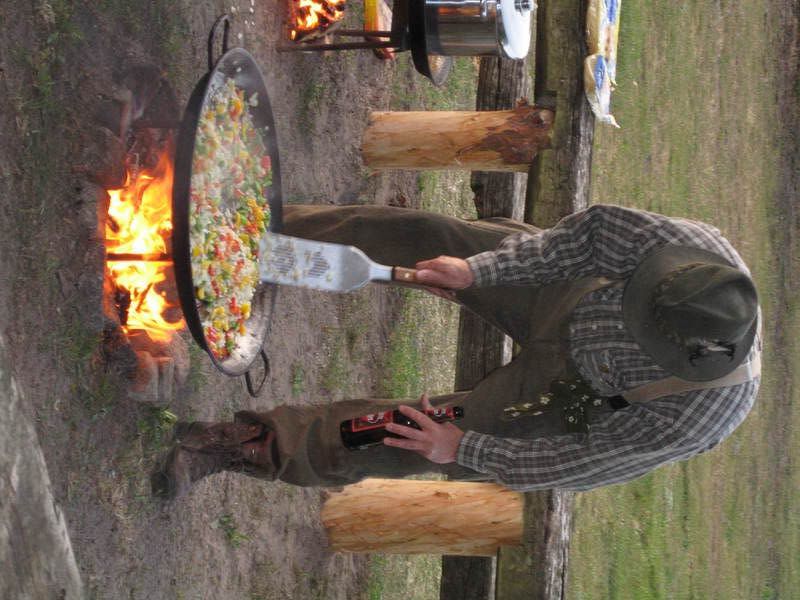 It got dark.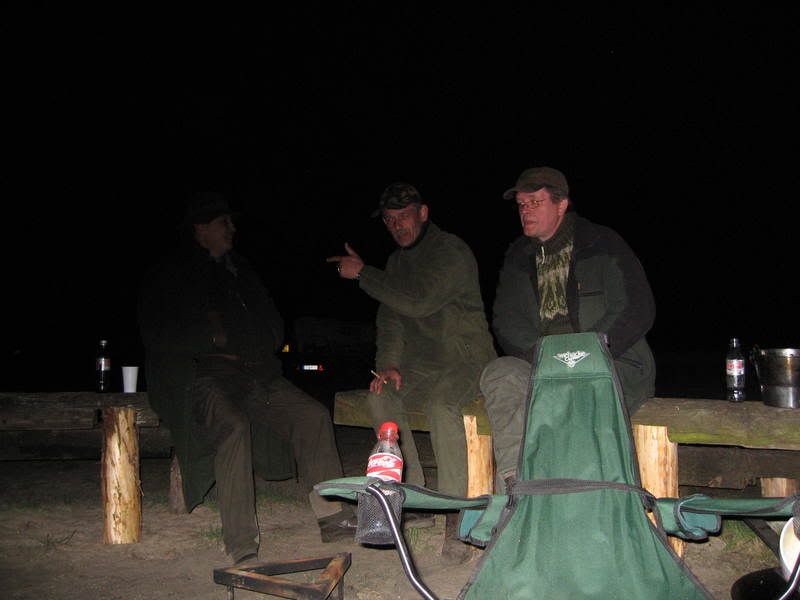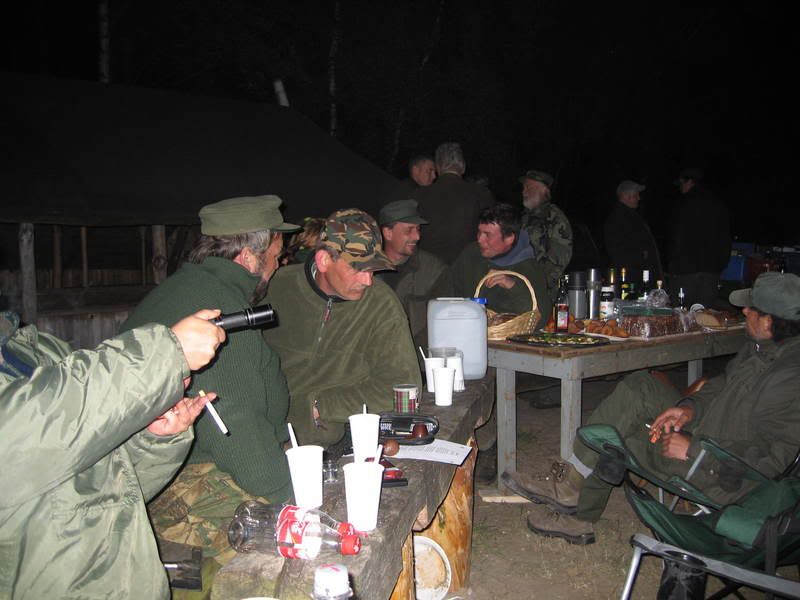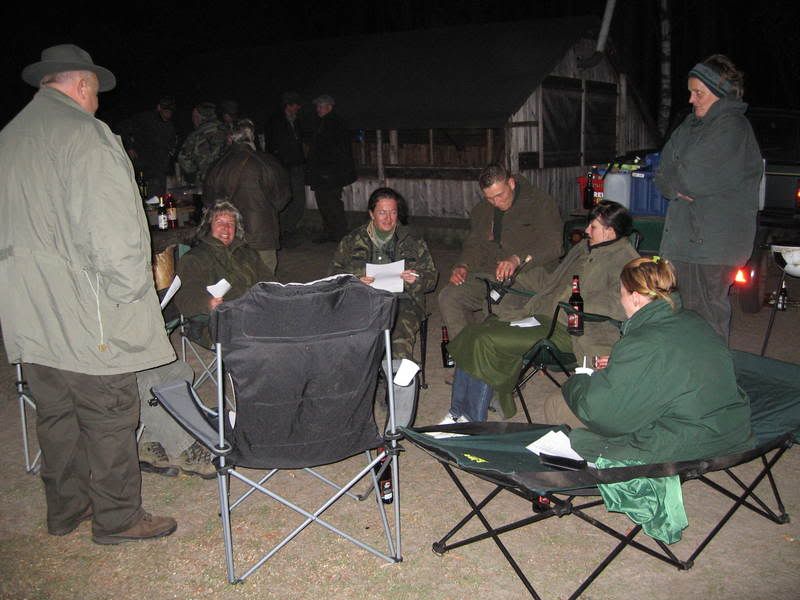 Horn Players salute the quarry species and the hunt.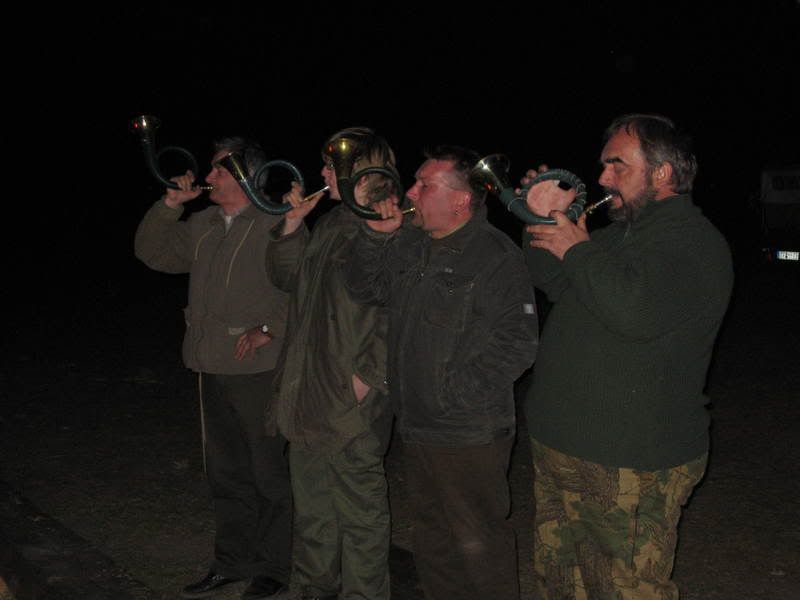 The three cooking fires. I eventually tripped over the one on the right!!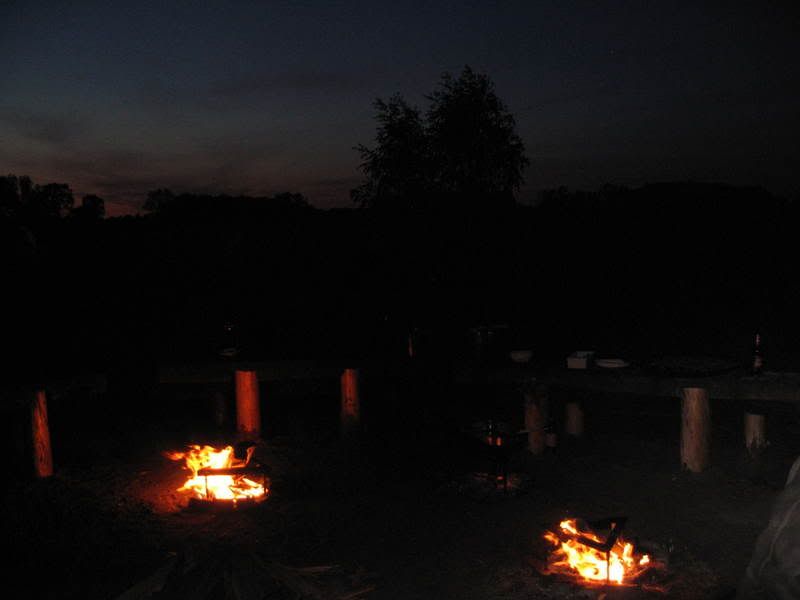 I was lucky enough to shoot a small roe buck that morning but Iain was not so lucky. Mind you, his luck was to change the next night,
Roebuck's roebuck.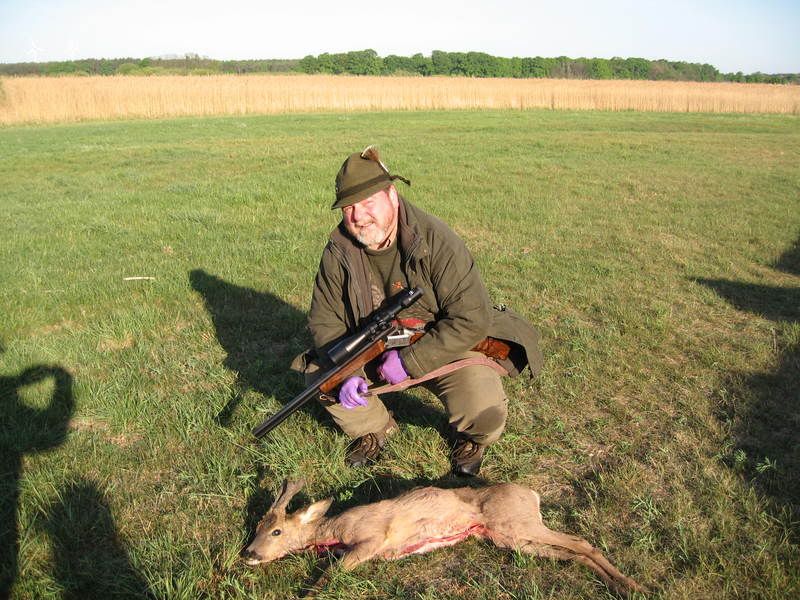 After the hunt, all the hunters whose party we were with, joined up with other parties from the surrounding district, where lunch was served and the assembled group was addressed by senior members of the "Hegesring" or district hunting association. Each successful hunter was presented with a sprig of evergreen, to be worn in his hat for the rest of that day.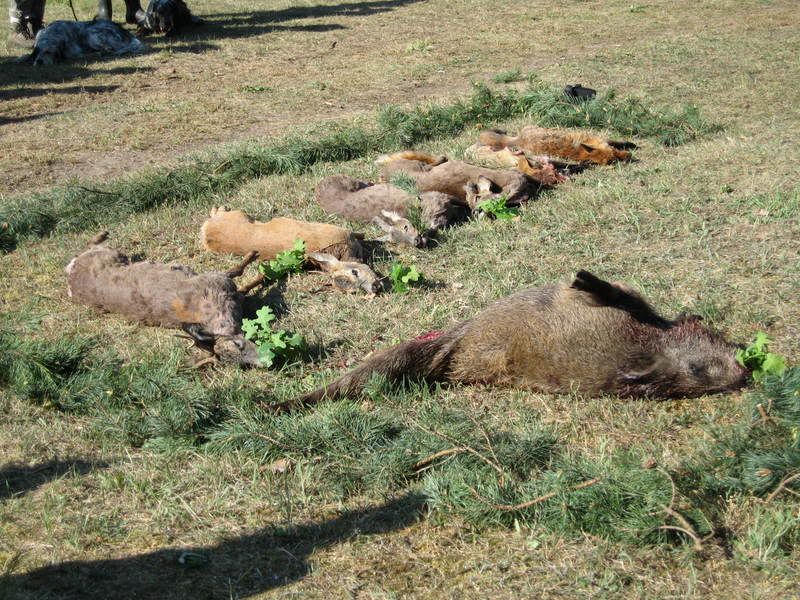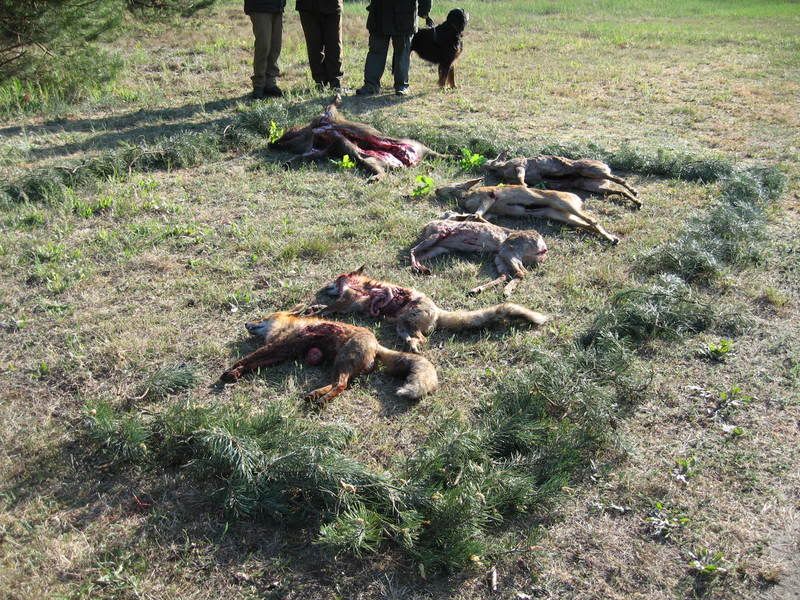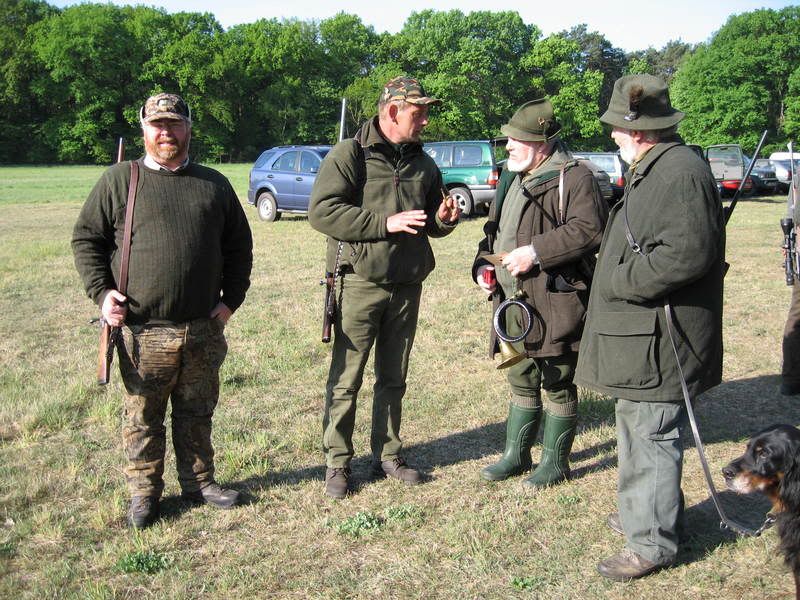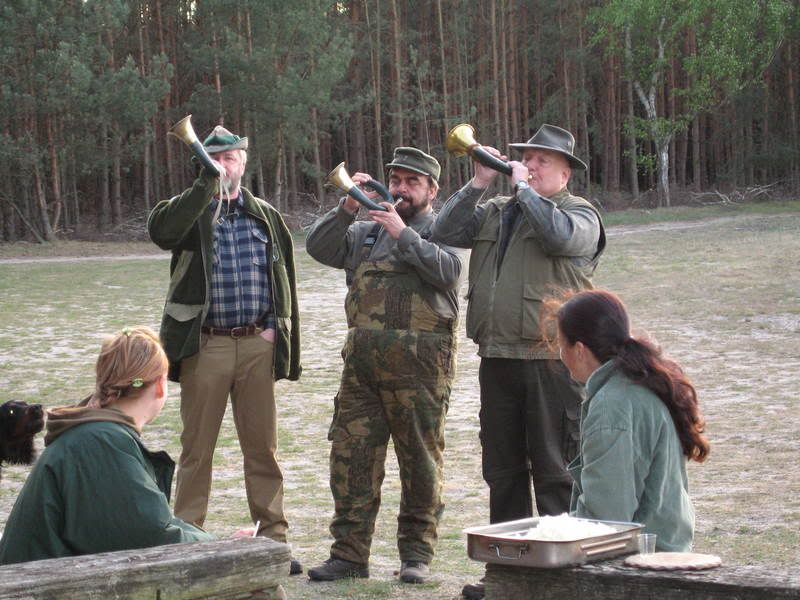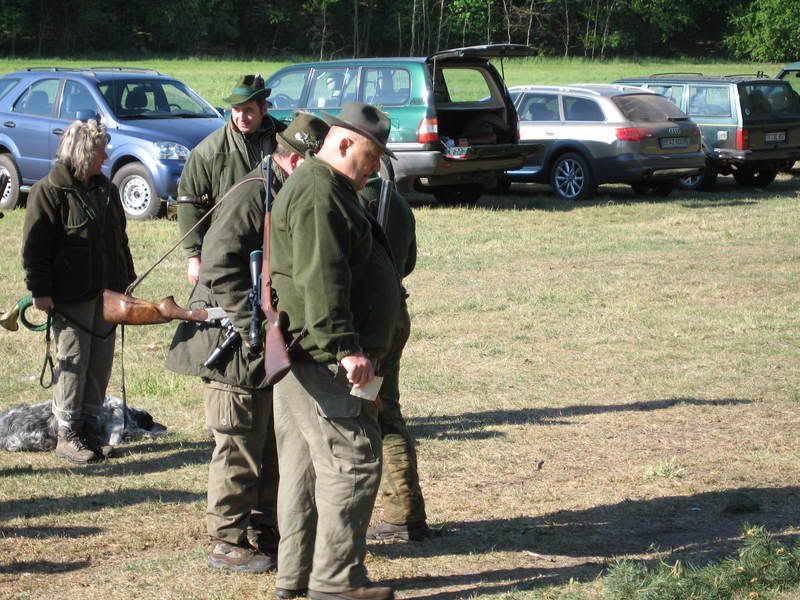 Dieter presents Roebuck with his evergreen sprig.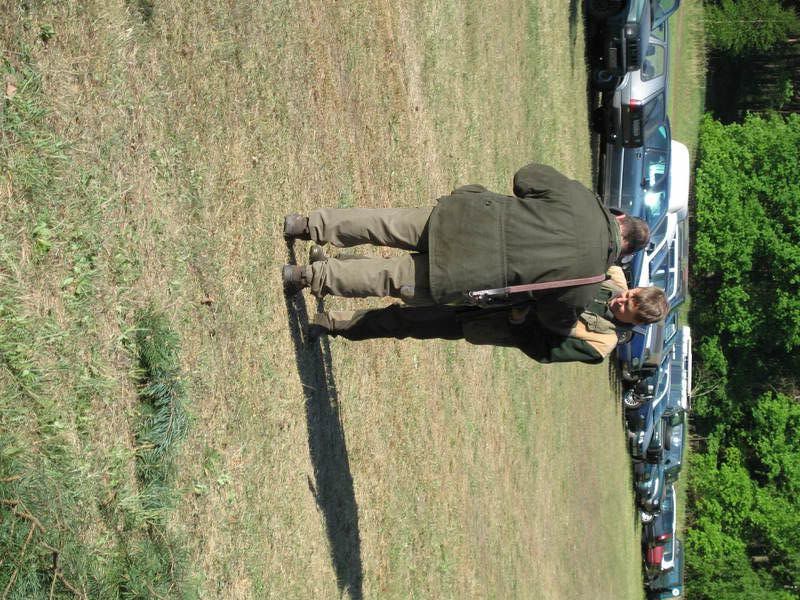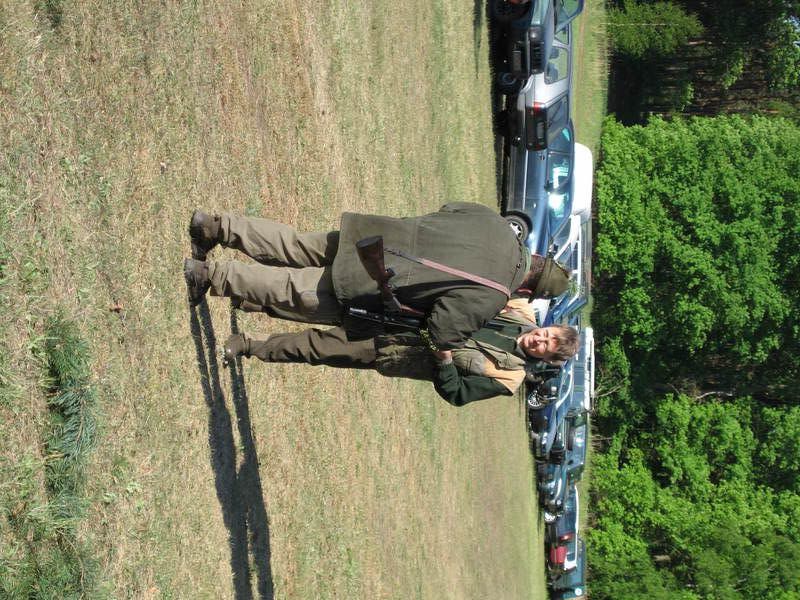 Certre is a retired US Army Vet who never made it back to the USA.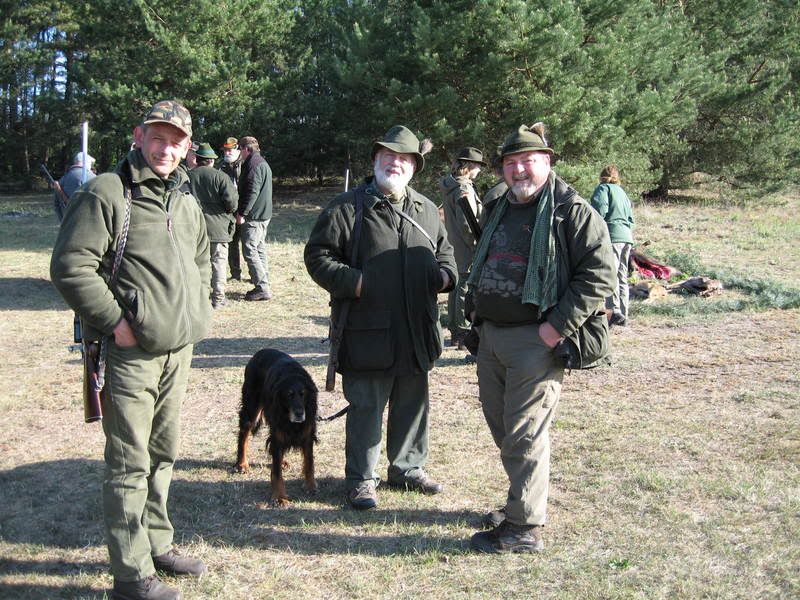 Such is the hospitality, that two of the hunters, Mathias and his wife Sacha, invited us to their land to shoot a pig by moonlight. That was when Iain's luck turned. He shot a nice sow.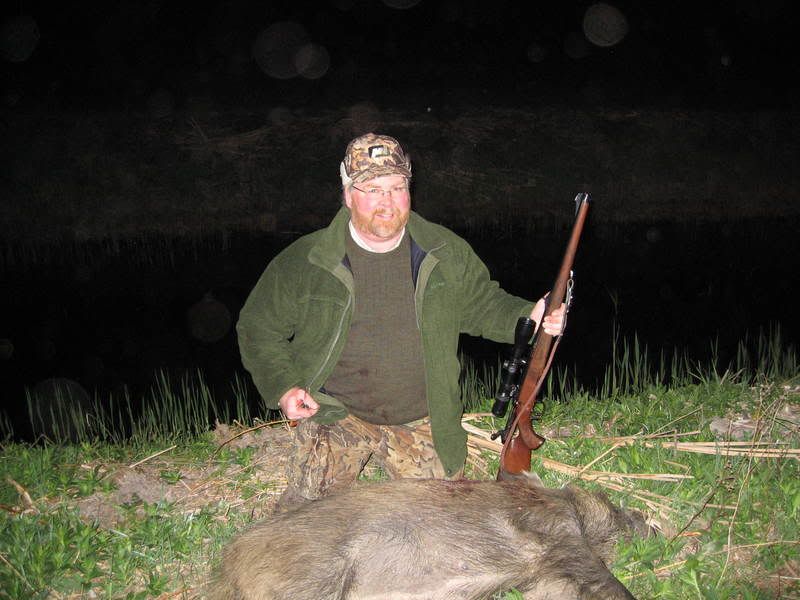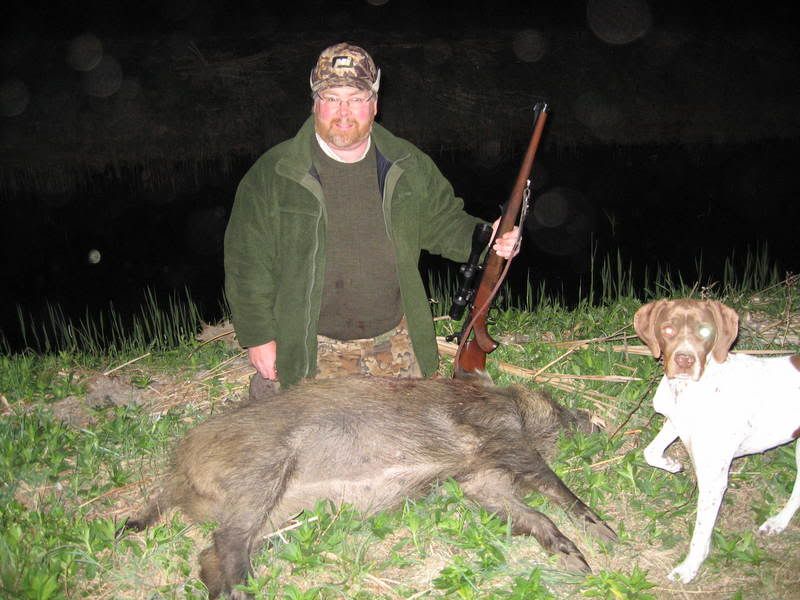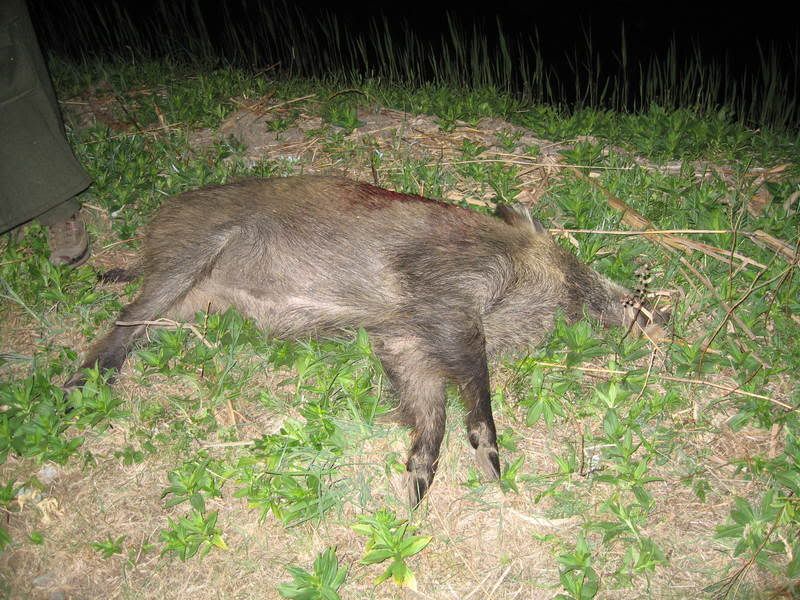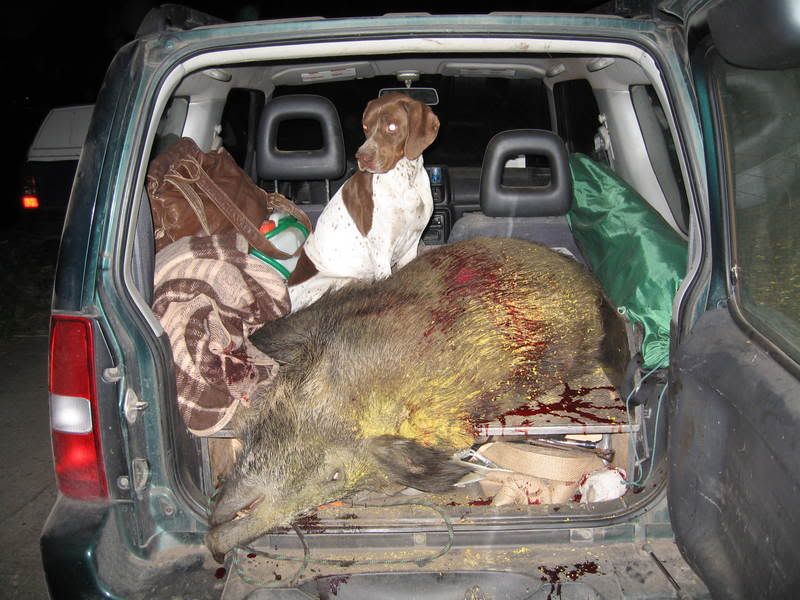 Dieter toasts Iain's pig.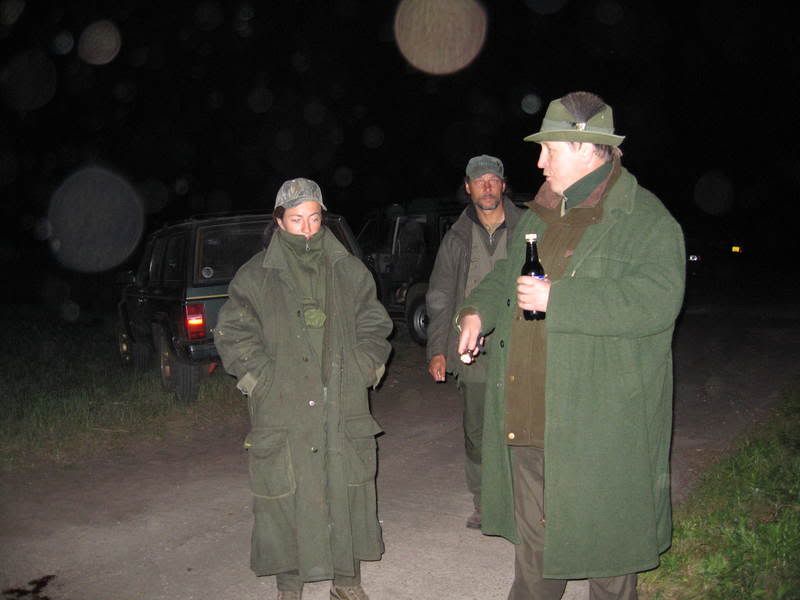 The following night, Mathias and Sacha threw a bar-b-que for us, prior to going out for another moonlight hunt.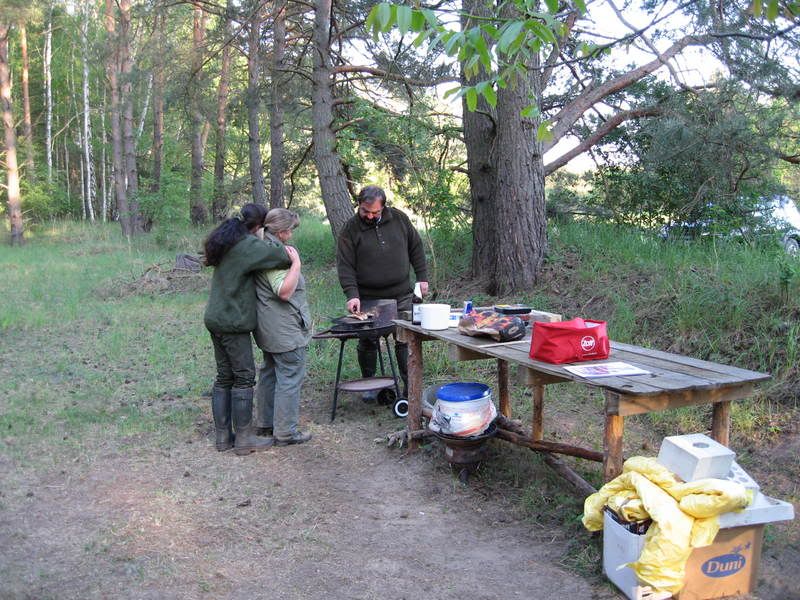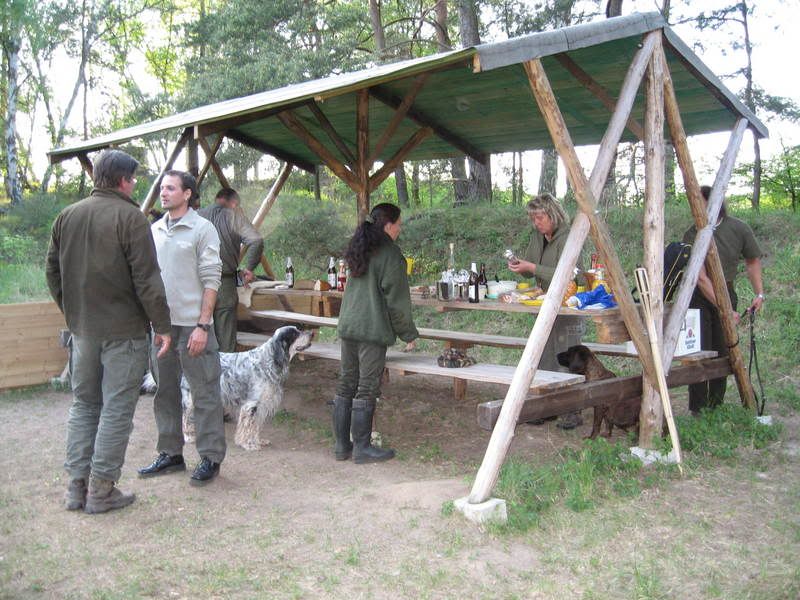 At this bar-b-que, Dieter presented Iain with a cured pigskin, signed by all present. For once Iain was speechless.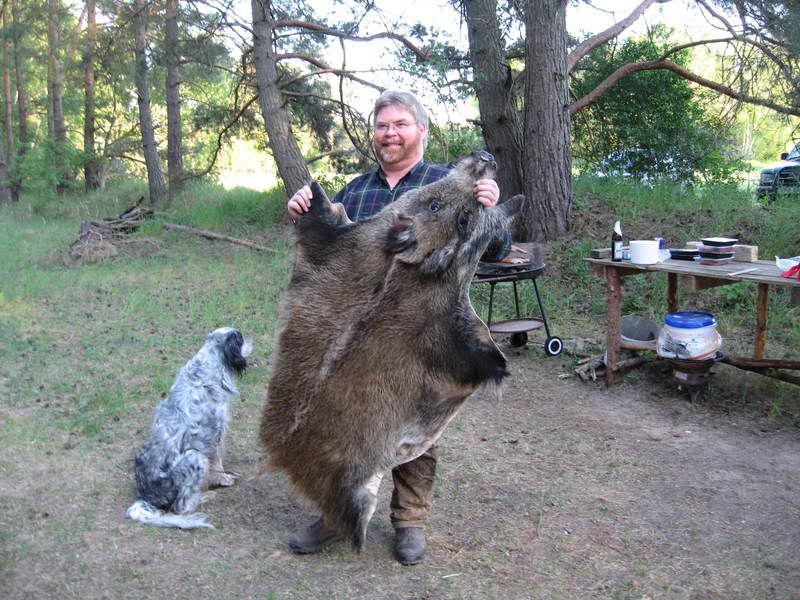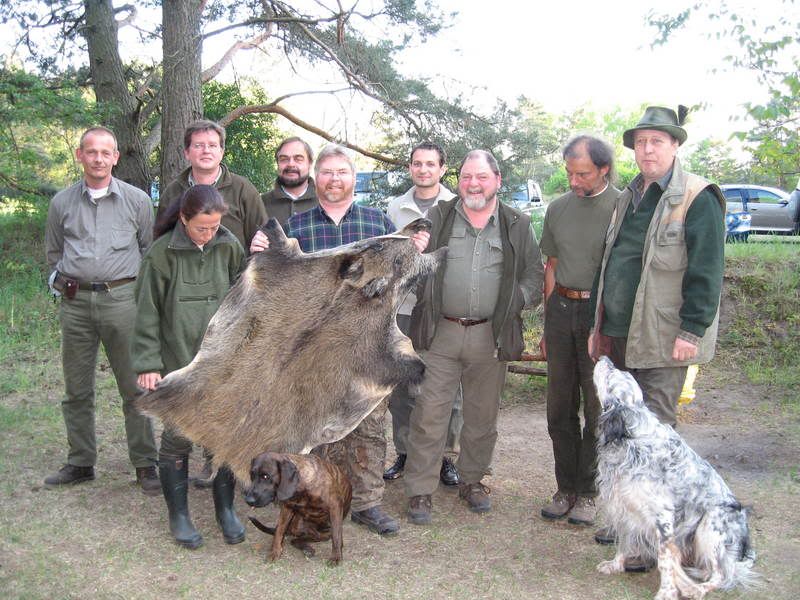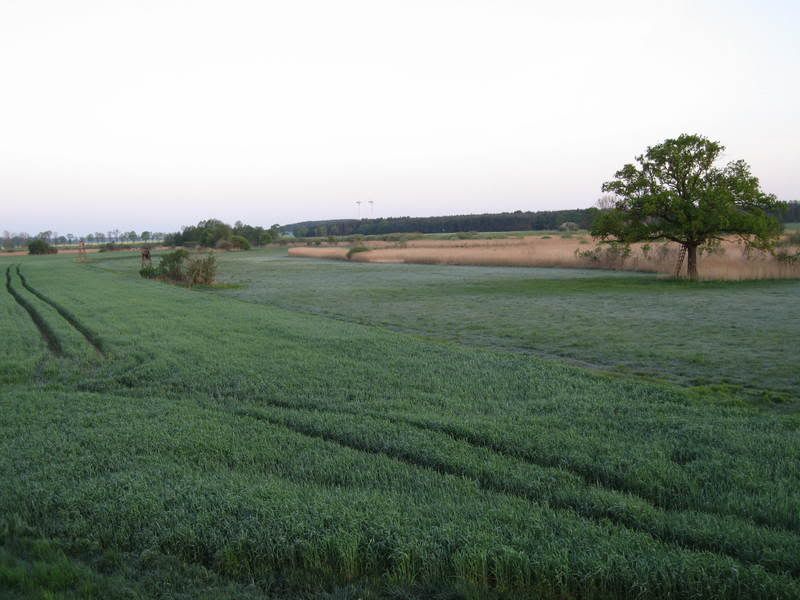 We went to visit Ketners, the famous German gun store chain (now owned by a Belgian). Here is a shot of the famous Berlin Wall.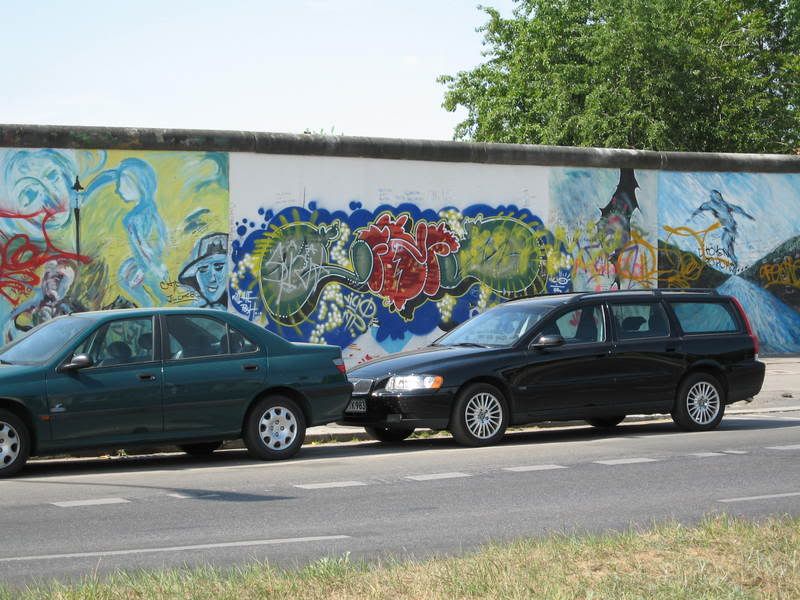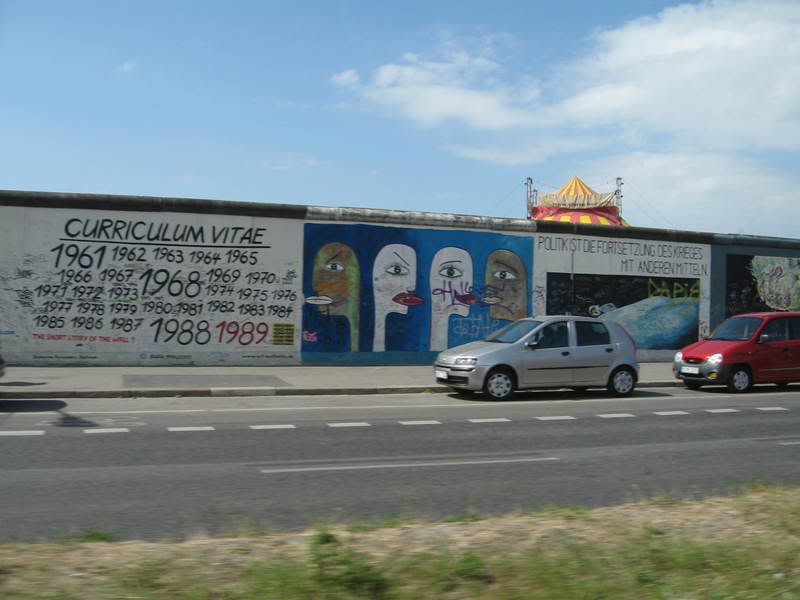 Marcel got a roebuck the morning we left to return home.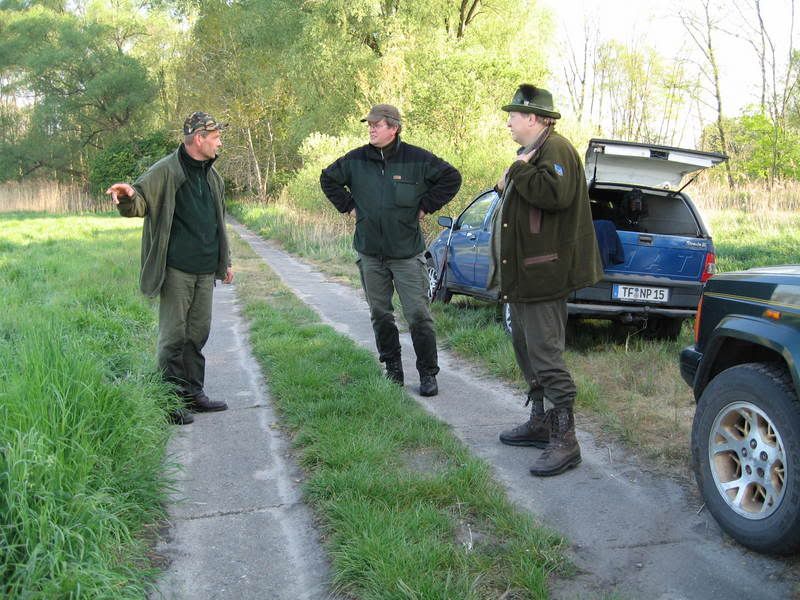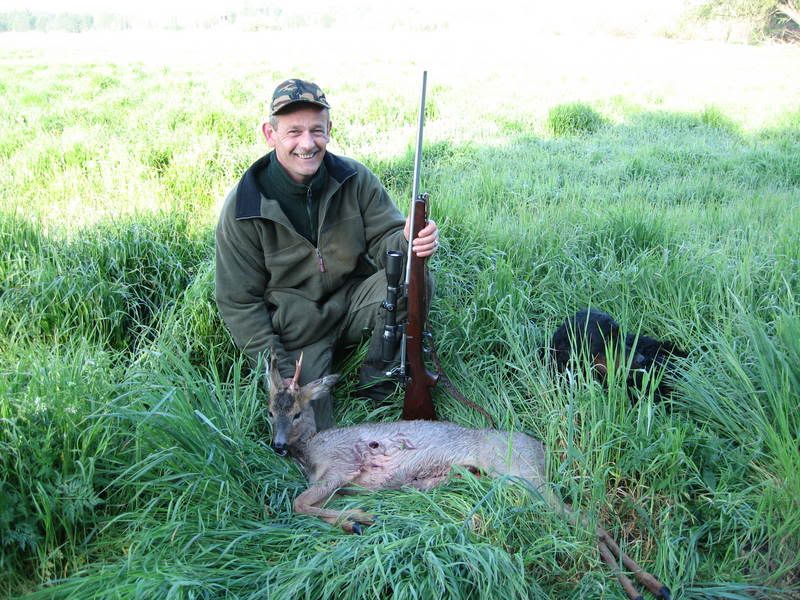 Despite language barriers, hunters the world over seem to be able to communicate and get on with each other. For the most part anyway. I felt privileged to have been a part of that hunt and thank Saint Hubertus for this and all the other wonderful hunts I have been blessed to take part in.