Discussion Starter
·
#1
·
I was keeping my AR at my parents house because it's more secure, and without my knowledge, my Mom decided to clean out my old bedroom and moved several things to a storage shed in the back yard several months ago. Unfortunatly two of the items she moved were my CAR-15 and a GSG MP5. Both of them in heavy duty nylon cases, but because the shed is not enviromentally controlled my AR now has a good bit of rust on it. Primarily looks like on the A2 Post sight, muzzle break, peppered along the barrel, on the trigger, and etc.
What I want to do is remove the lower and set it as side, and take the barrel off of the upper, remove the carrier bolt assym. remove the delta ring assym. remove the A2 Post sight, remove the gas block and tube, remove the muzzle break. Then take all of those parts that have rust and place them in a pan filled with
WD-40 Rust Removal Soak
.
My question to all of you is, do you think or have experience using WD-40 Rust Removal Soak on a firearm? The barrel is chrome lined. I don't want to really damage the firearm anymore than it has already become. So I'm also looking for suggestions on other methods/solvents to use that are safe on an AR for removing rust. Please chime in with your ideas/thoughts/suggestions.
And for your viewing pleasure, here is what putting your cased AR in a shed for months would look like.
:uzi: DIE COMMIE
RUST
!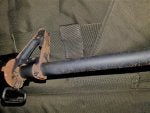 (
also I don't need any wisecrack comments about leaving some of my firearms at my parent's house. I have my reasons, you won't understand them, and I'm not going to explain myself. It is what it is, and now I'm just looking for some input on restoring.
)