We both had a great time together and stayed busy from the time we got up in the morning until we went to sleep. There were still many things I'd have liked to show him. Maybe next time?
Here's a couple of short videos of Sunday's fun. Click on the images to view the videos.
4 pounds of Tannerite packed in an ammo can at 100+ yards. It was MUCH bigger than it looks.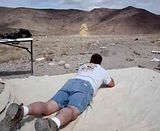 Chad's first 100 round Beta dump through the 7 1/2" shortie. I
think
he enjoyed it!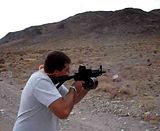 2nd Beta C dump. It's a nasty little beast that'll clear your sinuses.
If you use the full screen viewing feature and look closely, just behind the front sight you can see the gas tube glow cherry red prior to the drum running dry.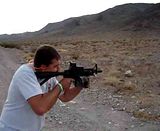 Sterling L34A1.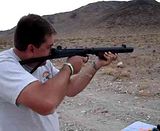 M-16 9mm