Discussion Starter
·
#1
·
A notarized affidavit is required to participate in this clinic. Email me for a copy of the affidavit.
The Civilian Marksmanship Program,
Southwest Gun Club, Inc.
and
Mississippi State Firearm Owners Association
Present a
CMP M1 Garand Rifle Clinic
PO Box 1061
McComb, MS 39648
601-249-3315 or 341-8797
NRA Club # c1149 DCM Club # y35005
[email protected]
Our club is conducting a CMP M1 Garand Rifle Clinic on May 29, 2010. THE McCOMB RANGE IS LOCATED 6 MILES EAST OF McCOMB, MS ON US HIGHWAY 98. IF COMING FROM THE WEST, LOOK FOR THE HOMESTEAD ROAD SIGN. THE RANGE ROAD IS ON T5HE LEFT, 2 MILES EAST OF THE SIGN ON US 98E. IF DRIVING FROM THE EAST, PASS THE BOGUE CHITTO WATER PARK AND WHEN YOU PASS THE CONVENIENCE STORE ON THE RIGHT, THE RANGE IS ON THE RIGHT, 2.2 MILES WEST OF THE STORE. THE NAME OF THE ROAD IS EDNA DRIVE. DRIVE TO THE BACK OF THE PROPERTY.
Course of Fire: CMP "A" Course on the NRA SR-1 Target at 100 yards
5 shots for sighters single loaded
10 shots prone slowfire single loaded 15 minutes time limit for sighters and record shots
10 shots rapid fire loaded 2 and 8 in 70 seconds
10 shots standing slowfire single loaded in 10 minutes
Our Clinic will consist of instructions on the following topics:
1. Use of M1 rifle and how to operate it.
2. Use of M1 sights.
3. Use of sling and proper shooting positions.
4. History of the M1 Rifle.
5. Field stripping M1 rifle and maintenance.
6. Proper ammunition and reloading.
7. Safety procedures on the range.
8. FIRING 35 ROUNDS OF .30 M2 BALL IN THE M1 RIFLE
9. 1 YEAR TRIAL MEMBERSHIP IN THE SOUTHWEST GUN CLUB
10. Sources for continued matches and programs with the M1 Rifle.
We will have NRA-CMP Instructors and Coaches to conduct this Clinic.
US Citizens in good standing (over 18 years old), that attend this clinic, are qualified to buy M1 rifles from the Civilian Marksmanship Program.
The class will start at 9:00 AM, Sign in starts at 8:30 AM. Clinic participants will need to bring a lunch and whatever drinks they desire. We will not have time to break for lunch and go into town to get anything. All participants, while shooting and not shooting, will be required to wear eye and hearing protection when on the range. Bring a ground cloth, (i.e.: Tarp, blanket, quilt or shooting mat).
Use of the M1 rifles and ammunition will be included in the Clinic Fee of $50.00. Participants under 18 years old pay $10.00 for Junior membership in the gun club but they will not be eligible to purchase the M1 Rifle. All participants must apply by US Mail, we will phone you to confirm your application. People showing up at the range may participate, if there is range space available and they have the required affidavit Notarized.
NOTICE: Clinic participants over 18 years old, will have to send the enclosed CMP Affidavit in with their Clinic Application. The CMP Affidavit will have to be notarized before sending it in with the application. If you bring it to the range on clinic day and it is not notarized you will not be able to participate in the clinic and you will forfeit the clinic fees. We will accept cancellations if made before May 25, 2010. Any participant that does not show the day of the event (without prior notice as indicated) forfeits the Clinic Fee.
Hope to see you at the range,
Doug Bowser
Secretary
………………………………………………………………………………………...
APPLICATION FOR CMP M1 GARAND CLINIC
NAME: ______________________________________________ AGE:___________________________
ADDRESS: ___________________________________________________________________________
CITY, STATE, ZIP: ____________________________________________________________________
TELEPHONE: ______________________________ CELLPHONE: ___________________________
EMAIL ADDRESS: ____________________________________________________________________
INTEREST IN FIREARMS: _____________________________________________________________
I AGREE TO THE TERMS OF THIS PROGRAM: ___________________________________________
SIGNATURE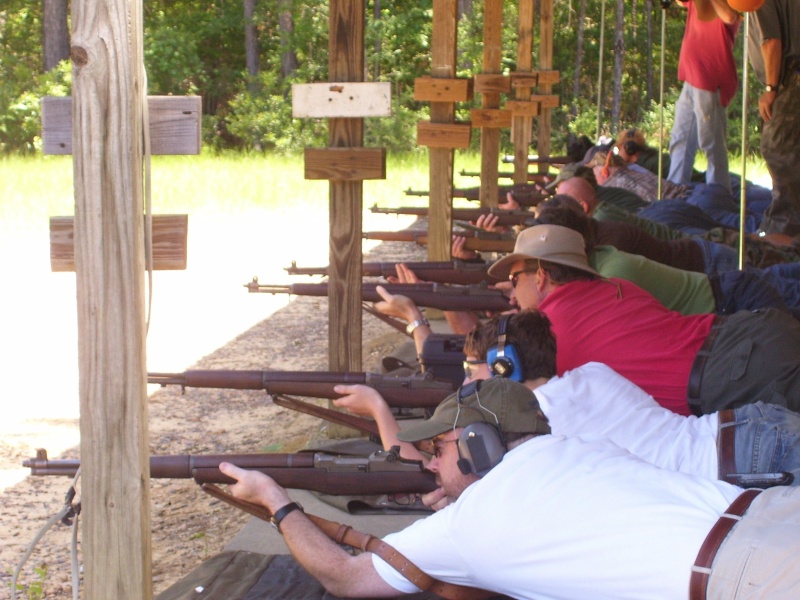 A photo of our last M1 Garand Clinic