Discussion Starter
·
#1
·
WATCH OUT ! ! !
T-Rex is now sitting on Magnolia's range.......
The contractor mobilizes these 2 pieces of equipment Friday (and pulled a few stumps). He will start "officially" on Monday.
The 2 East ranges will get drainage improvements....................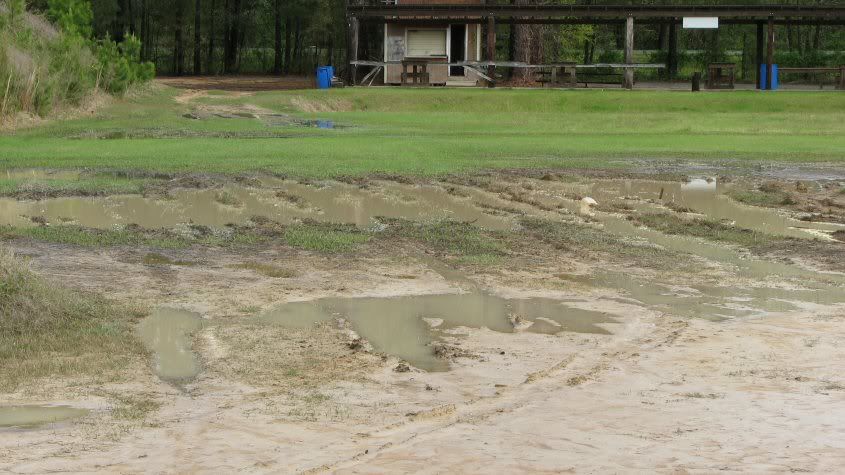 The East Ranges parking area will be mucked out and improved. Roads behind the firing lines improved. The road down to 300yds completed. Mudpuddles on the range itself filled in. And finally..... the pavillon dirt pad (after removing all the stumps).
My first project this morning was to locate the 100 meter SBRS rail that has been covered by dirt washed down from the impact berm. The contractor will be working in this area and Magnolia does't want him to damage the rail. I was "warned" the rail is buried deep, but didn't believe it......
After digging 2 trenches to "hit" the rail...... I still came up empty............

I then used a long (10") nail to explore deeper (about 7 more inches). Still.... NO RAIL found.....

The trench is about 9" deep + 7" with the nail.... Where is this stupid-ass rail....?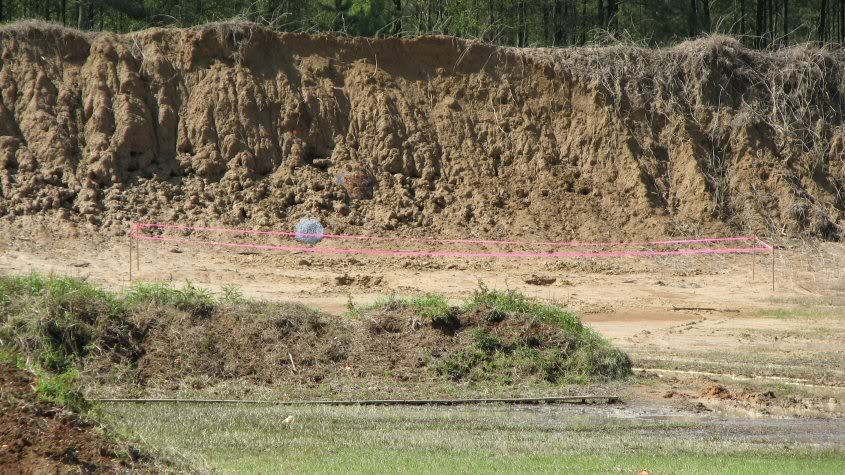 So I flagged the area off with "pretty pink" flagging to be dealt with later............................. You can see the type rail I was looking for in front of the short berm (3" wide & 20' feet long).
IPSC and ICORE combined their matches today because IPSC had their match schedule for Easter Sunday. They took up the West ranges and the East-50 range.
One stage on the West-25 Range.
This small (quick & dirty) stage was setup on the West-50 range.
And last (but definitly not least) was Chris working on the plate rack..........
Chris dedicated his time & welding knowledge this morning to repairing the 1 of Magnolia's 2 plate racks. While he couldn't fix one of the plate pivots (missing the parts), he did replace the reset bar. The old reset bar was shot to hell & broken. The new reset bar is SOLID steel, not steel tubing... Plus he installed a "limiter" that will not allow the reset bar to lockup and not fall back down as required. Chris, you are Da Man......... NICE WORK.
Final Comments.................. Earlier this morning I saw and talked to n-selman and Xd357 who were shooting the IPSC match. Later in the day I talked to Captain. I gave Captain a few "happys" I had been holding for him (500 S&W brass and target 22 ammo). I also gave Captain a "tour" of my new XD-40. Wasn't much of a tour as I know little about the XD-40 so far...............................

But I do know I LIKE IT ! ! !
.