Sportsmans Guide has the
SAR K12
9mm for
$598.49
(Buyers Club, or $629.99 non-member -- 3 month trial membership is $9.99) with code "
ULTIMATE20
". $41.89 in MS state sales tax and with "free shipping" but with a $16.04 gun processing fee and $1.05 "shipping tax" added to that. If you get the 3 month trial membership for $9.99, you are also eligiible for 4-pay (so getting the BC trial membership, if you don't have a membership, would save you ~$20 on this and make you eligible to buy it with 4-pay).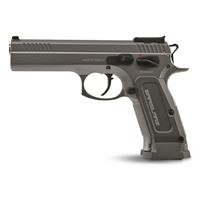 Sportsman's Guide carries top-quality discount Outdoor and Hunting Gear, Guns, Ammo, Fishing Supplies and more - all at great low prices!
These have been selling for around $800, or more, when in stock, so this seems to be a pretty good deal at around final price/cost to MS
$646.41
if you opt for and get the 3 month buyers club trial membership as part of the order. I haven't seen this sort of price for the past year or two.
These appear to be the more grayish matte finish. I can't recall having seen the silver/bright stainless finish or the ported version, which you may see in some pictures, actually for sale in the past few years. If you're into these (it's a single action only), this is one of the better gun "bargains" I've seen for a while.
I doubt these will last long.