Discussion Starter
·
#1
·
Marty (
@22lrfan
) inspires me with the way he's always hitting up local pawn shops, and posting deals he finds. I thought I'd start a thread for us South Mississippi folks.
I primarily follow Dad's Super Pawn, High Caliber Pawn, Friendly Pawn and Cook's. Mostly Friendly, because they're closest to my house, and I pass by almost every day.
I meant to start this yesterday, so some of the items hit the shelves yesterday, and some came out today.
Here are yesterday's (05/16/18) items.
FRIENDLY PAWN, HWY 49, SAUCIER, MS, 05/16/18
Marlin Model 60, .22LR $125
Ruger LCP II, .380 ACP $249
Springfield Mod. 67 .410 ga. $249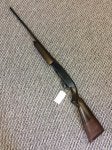 TriStar Viper 12 ga. $279
Winchester Mod. 94, .30-30 Win $249
Hatfield 20 ga. $89