Discussion Starter
·
#1
·
Re: Home, Home on the Range
I think it helps to look at some more or less innovative ideas on what we do at the range. Things we do to make it more fun, to increase interest, and even perhaps to hone our skills.
With this premise, it crossed my mind to initiate a thread touching on the things we do to make our time on the range more fun and even more rewarding. I have no intention to get into a can-you-top-this. Rather I'm looking to share ideas, things that you might do that I might want to adapt in whole or in part.
And, if there's no interest I'll just give this up as a bad bet.
So, to get this moving I'd like to show you what we call our Cannery Row (with all due apologies to John Steinbeck).
This first picture gives you an idea of what it looks like. It's saggin' a little but it has seen some use.
We set it up 45 feet (15 yds) from the firing line for off-hand shooting.
Those tin cans are 15-16oz cans (you know, what your peas, corn, etc come in) partially collapsed so the can will grab a drink can. The drink can has the pull-tab for a hanger. (See the third picture)
The Duct (Duck?) tape serves several purposes. For one it clearly marks were the stobs are and says, "don't hit me!". The tape helps keep the twine (baling twine if you're interested) from pulling through the corrugated box. And lastly if you turn the thing upside down you've got a shelf (we're eyeing that now for what interesting things we could put on it) that the tape supports.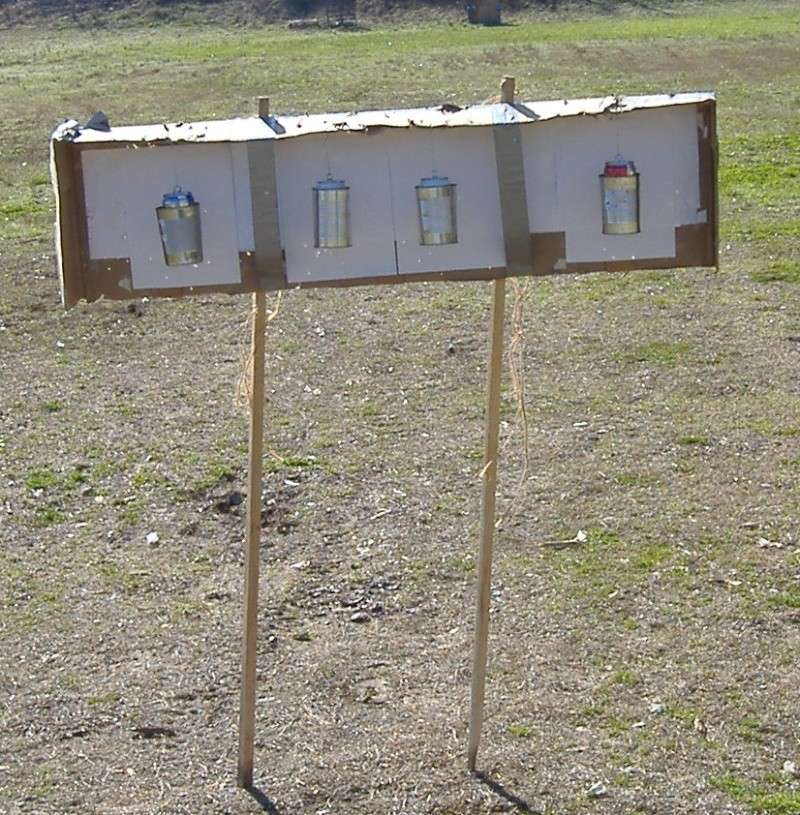 This picture is the back side and shows how it's just tied on to the two stobs. Hmmm, a little aerated isn't it. Guess we're going to have to replace it soon.
This picture is a close-up of the can assembly. Those are opened paper clips we use for hangers (used to buy S-hooks but the paper clips are cheaper). A .45ACP sure do make big holes don't it!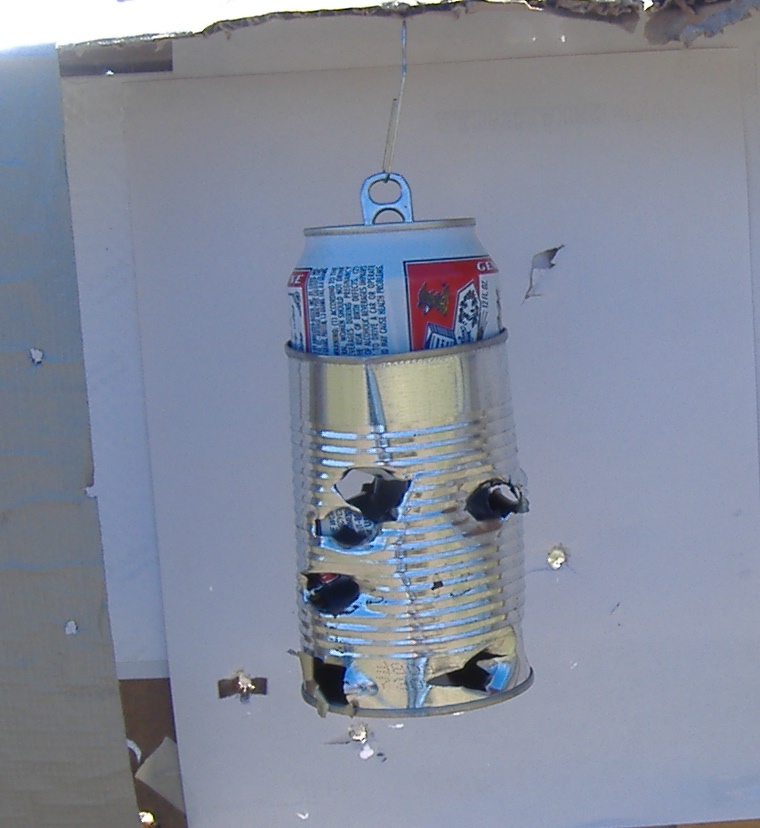 At the end of the session you need to add fresh paper facing behind where the cans hang to give you a new background the next time you shoot. It all breaks down and is completely portable.
Maybe this is of some value to someone. If there is any interest I'll add some other things we do that you might find fun and even perhaps challenging.
Let me add this closing. Please carry off whatcha brung witchya.