Discussion Starter
•
#1
•
I've been getting an increase in inquiries on my carry belts the past few weeks so I figured it was a good opportunity to offer this up to the MSGO community again. Little higher than last year but better than nothing.
Pricing for plain belts with choice of hardware:
1.5"  EDC (Single Stitched) Normal Price: $70 Shipped
        Special Price per customer: $65 Shipped for one
             $120 Shipped for two
             $180 Shipped for three
             $240 Shipped for four
             $295 Shipped for five
1.5" EDC D.S. (Double Stitched) Normal Price: $80 Shipped
        Special Price per customer: $70 Shipped for one
             $130 Shipped for two
             $190 Shipped for three
             $250 Shipped for four
             $295 Shipped for five
Any hand stamped belt for $125 shipped – average savings of $40. The hand stamped belts are not limited by the earlier color choices, but by the ones offered on my website.
Black elephant full overlay belts for $100 - limit of 6 total sales.
As stated this a loose feeler to see if I even have enough interest for this to be worthwhile. Let me know your thoughts, please post up if you think you might want something so I have a general idea. Target # is 25 plus a few to cover those that back out.
To clarify for those unaware all of my carry belts are two layers of vegetable tanned Wickett & Craig Skirting/carving leather for a total thickness just shy of 1/4". These layers are glued and sewn together with a natural colored liner to prevent dye transfer onto your clothing even under the hardest uses. I think oil both sides with 100% pure neatsfoot oil to prevent cracking and apply an acrylic finish for a low maintenance long term finish. Some key features:
- Standard .225"-.235" thick construction for superior longevity where desired.
- 1.5" width will fit most pants and holsters, sheaths, phone clips/cases, etc.
- 7 holes at 3/4" spacing for plenty of adjustment.
- Center hole is the measurement given to me, giving you 2.25" of adjustment tight and loose.
- Solid brass/nickel plated hardware.
- Hand dyed/burnished edges.
- Taylored to suit your tastes and needs
- Buckles attached via chicago screws, easy replacement with others including your own.
- Quality hardware for a lifetime of use.
- Natural Liner standard to prevent dye transfer onto clothing.
- Machine stitched with bonded nylon thread.
- Oiled, then finished with an acrylic sealant for a low maintenance finish.
"So what will this get me over a store bought belt?" Is something you might be asking yourself at this point. It's simple really....longer life. So many of the store offerings today are single layered belts used from inferior quality materials and sold to you at a substantial mark up. After a few short months of use you've stretched it out to the point you need a new belt. I see a lot of makers offering single layer 'bull hide belts.' I can tell you from experience that a single layer no matter the thickness will continue to stretch as it doesn't have the stitching to stop it from stretching.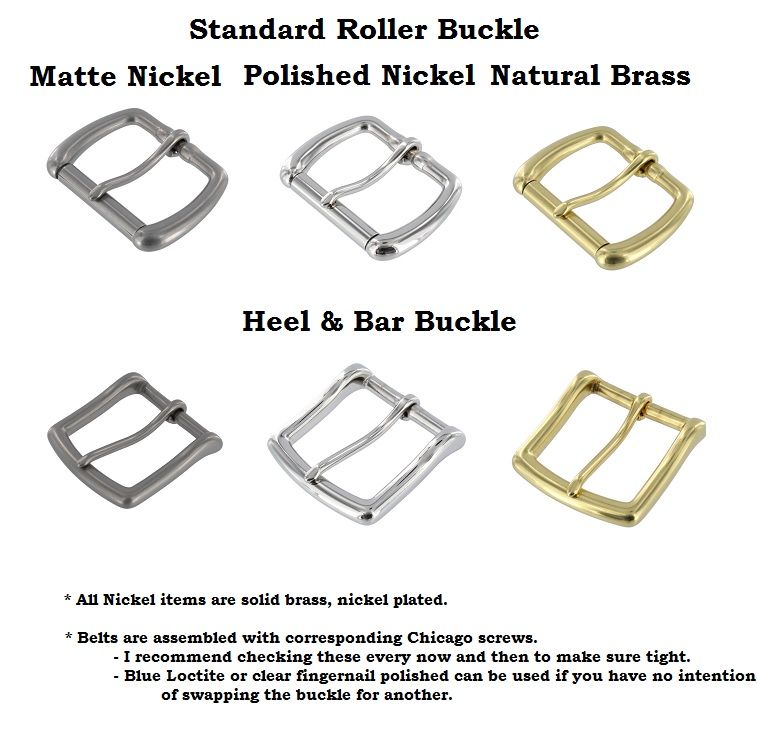 What colors are available?

*NOTE: Unless you are ordering a hand tooled belt these are the ONLY color options available.

Thread choice: You have the option of the following:

1) White

2) Natural (Egg shell, off white)

3) Brown

4) Black

Edge Colors:

- Brown or Black only.

- Black only on black body colored belts.


**This is a no cash until build time buy, I don't want to deal with it until I'm ready to work on something this large. If we hit 25

+

we will call it 'on' and I will begin to order materials again.