Discussion Starter
·
#1
·
I picked up my new XD-40 Tactical from Steve last night. Today after doing some work at Magnolia's range I got to shoot my NEW TOY.....
The grip on the XD-40 feels good, but is different from the 1911s I am use to. The trigger stages easy, but the "fire pull" is a little heavy... but crisp. I understand there are "springs & things" that can make the trigger better, but I just need to get some more trigger time on my new XD-40. One trip to the range does not make a good judgement call...............
My VERY FIRST SHOT at 10yds.....
Like with Neck and his 9mm pocket pistol on July 4th last year, I should have stopped after the first shot...... The aiming point was 6 o'clock. I would call that dead-on.........
The rest of the first 5rds (at 10yds standing)...... The black paster is 0.75" in diameter. This was shooting the top of the sights, not the 3-dots.
The next 5rds were shooting the 3-dots. Plus I slowed down a little...........
Then I did some 10rd rapid-fire strings.
Oh yeah...... A picture of my new baby............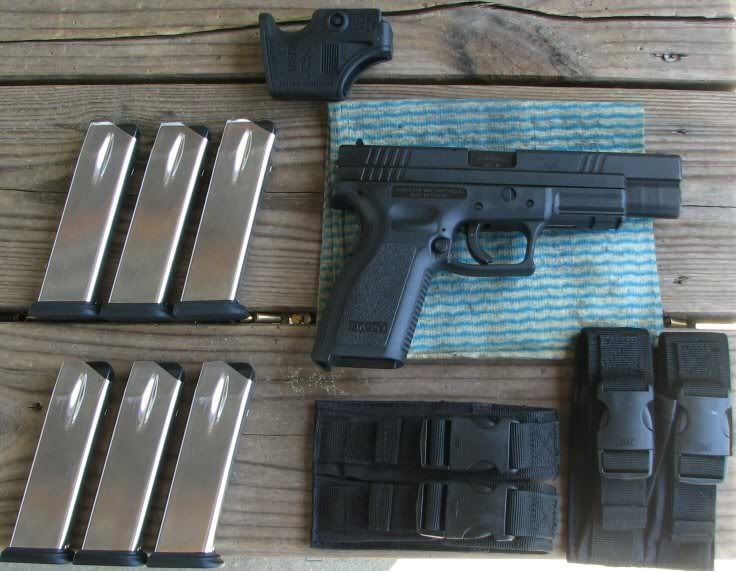 The XD-40 Tactical (5") with 4 extra mags I bought in advance, plus two "TactiCOOL" mag pouches....
(free with the 4 mags).
One thing I feel "sucks" with the XD-40, the mags almost require a mag loader to load them. I am not use to that.........
Bottom line.......... I LIKE my new XD-40. Just need more trigger time with it.
.