Discussion Starter
·
#1
·
The Mississippi State Firearm Owners Association and Southwest Gun Club Junior Air Pistol Team won 2nd Place in the USAS-NRA Junior Olympic Progressive Position Pistol National Championship. The event was conducted at Camp Perry, Ohio on July 8-11.
The interesting fact about the tournament was the third place team scored a 2087 with 16 center shots. Our team scored a 2087 with 18 center shots. Center shots decide ties in International Team Shooting. The first place team scored 2098 with 21 center shots. There was only 11 points difference between 1st and 3rd place, telling us the competition was fierce. All team members shot with one hand standing.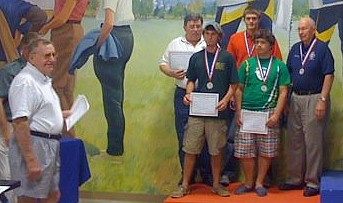 The team members and coaches from left to right are: Doug Bowser, Garrett Rayborn, Jay Raymond, Thomas Ricks and Mickey Brondum.
The man standing to the left made the awards. His name is Bill Blankenship. He is in his 80's now but he won Gold at the Olympics in Centerfire Pistol. He also won 6 US National Bullseye Championships and still holds the record for 2700 Bullseye shooting with a 2674 out of 2700 possible points.
Doug Bowser
President
Mississippi State Firearm Owners Association
Level 2 International Pistol Coach
Secretary
Southwest Gun Club