Discussion Starter
·
#1
·
I have one of these revolvers. It was designed by Emile Nagant in 1895 for the Czarist Russian Government. Mine was made at Izhevsk in 1945. The original caliber of the revolver was 7.62x34R Nagant. The cylinder holds 7 shots and loading is accomplished in like the 1873 Colt.I bought this revolver for $50.00 from a guy that did not want to pay the price of the 7.62x34R ammo. I compared the dimensions of the cartridge with the US .32-20 and they were very similar. I decided to re-chamber the cylinder. The only thing you have to do that is unusual is, the rims have to be rebated slightly because the head space on the Russian ctg is shorter than the .32-20. Also the ammunition has to be 1/10" shorter than the .32-20 factory ammo to clear the front of the cylinder.
I have used several loads for this revolver:
Lee 93 gr cast lead RN bullet with 4 gr Unique
Hornady 90 gr HBWC with 2.5 gr Bullseye
Lyman 3118 115 gr flat point with 2.3 rg Bullseye.
Hornady 77 gr XTP jacketed HP with 4 gr Unique
All three of the loads shoot well for a service revolver but the Hornady load stays in 2.5" at 25 yards. The revolver actually functions better and is more accurate with the .32-20 loads than it is with the Fiocchi 7.62x34r ammo. By the way, the original caliber ammunition can be used in this revolver after the conversion is accomplished.
I use this revolver as a car gun. It only cost me $50 and some reamer work (I have the reamer). If it is ever lost I will not grieve too much. These revolvers are available for about $100.00 and they are usually in excellent rebuilt condition. You can tell if the revolver has been rebuilt because there is a mark indicating the rebuild. It is a small square with a line through it parallel to one of the sides of the square. If a Russian firearm has a wooden stock refinished, there will be a square with a diagonal line through it. I will add photos when my camera battery recharges.
Doug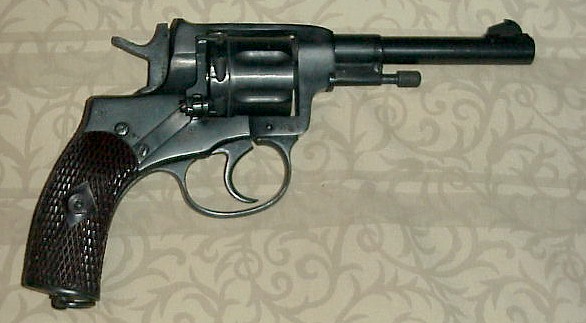 This is the photo of the ctg being ejected by the ejector rod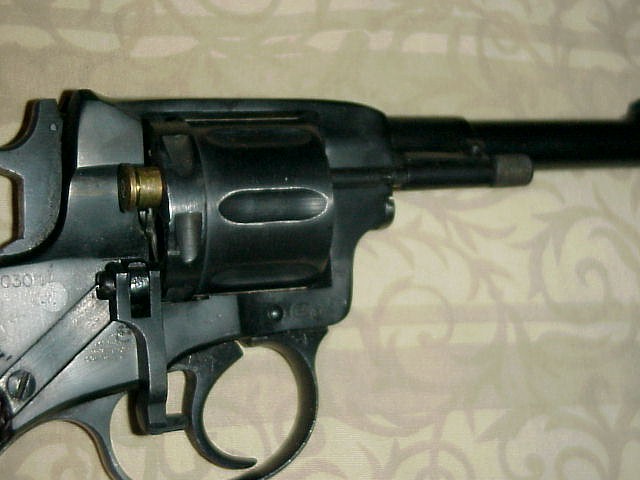 This is the original ctg (on top) and the .32-20 Wadcutter round. The Russian round is pushed forward by the action and seals the cylinder gap.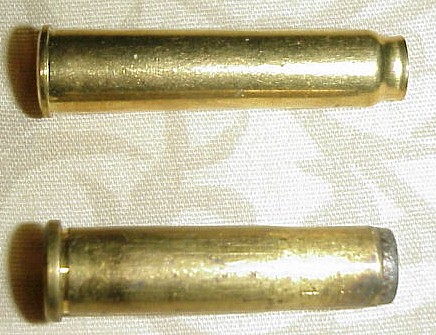 This is the Izhevsk symbol and the date of manufacture. Also there is the refinish marking.