Discussion Starter
·
#1
·
SR9c Review
SR9c review- a newbie perspective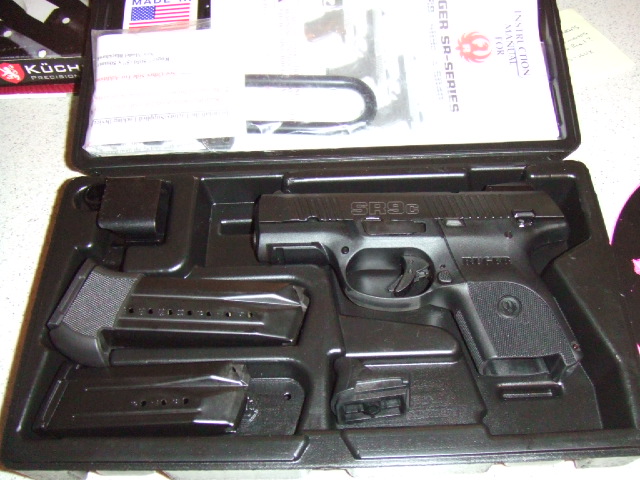 A guy was asking about it so thought I'd put together a quick review...
After extensive research on various compact 9s (including many youtube reviews) I decided on the Ruger SR9c as my next purchase and went with the black slide option. I liked the flexibility of it having a 10 round and 17 round magazine included, figured I could use the 10 rd. for carry and slap in the 17 rd. for home use. Plus considered the price, size and weight reasonable for a decent CC weapon. With the light trigger pull the manual safety was not a big issue for me, besides it's located perfectly for a quick thumb sweep upon drawing from a holster. While the ambidextrous safety and mag release are great for the lefties, I really wish they weren't there just because I wonder about them getting pushed or bumped accidentally against something while carrying. Haven't actually heard of that happening so maybe just a little paranoia, but it just looks like it could while holstered, especially the mag release. The gun has a mag disconnect safety that will not allow a chambered round to be fired without a mag inserted, apparently this feature can be disabled by a simple procedure but I haven't had time to research it yet. The reversible backstrap, adjustable rear sight, mag loading tool and pinky extension also are included and worth a mention. All this for 405.00 (online) seemed like a good deal fit for my budget. A local shop said he'd get me one for around 400 when his distributor got some in but I got tired of waiting.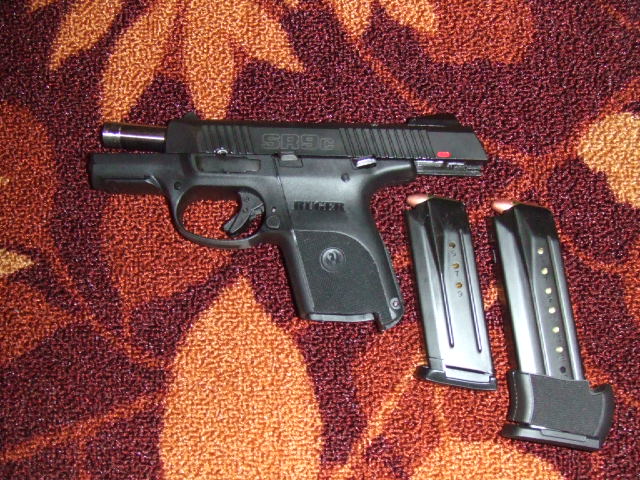 Now off to the range where I put 250 rounds thru it. I'd read about cleaning it first but other than the grease it looked clean enough, besides I figured it's supposed to work perfect out of the box...and it did. The double recoil springs are stout, almost brutal so I make sure to get a serious grip to manhandle the slide. Supposedly it loosens up and gets easier after break-in. I love the trigger on this gun but must admit being used to my other handguns- an LCP and Sigma 9 which aren't exactly known for "nice" triggers. As far as accuracy I can't really give a valid report for two reasons. 1) my limited experience and 2) have been struggling through the left-eye, right-hand dominant issue and this trip to the range was the first time I tried shooting with both eyes open. Having said that, I was much more accurate with the Ruger than my Sigma but don't know whether to credit the SR9c or my new aiming technique. Here's a couple mags worth from 10 yds...
You experts probably thinking "he sucks" but hey I was impressed :lol4:
I went through 175 rounds of Blazer, 50 rounds Winchester and 25 rounds Remington (all 115g.) flawlessly. I have no complaints at all about this gun and really like it so far, looking forward to more range time and hopefully finding the right holster. Which brings up something maybe for another review- the Shielded Holster.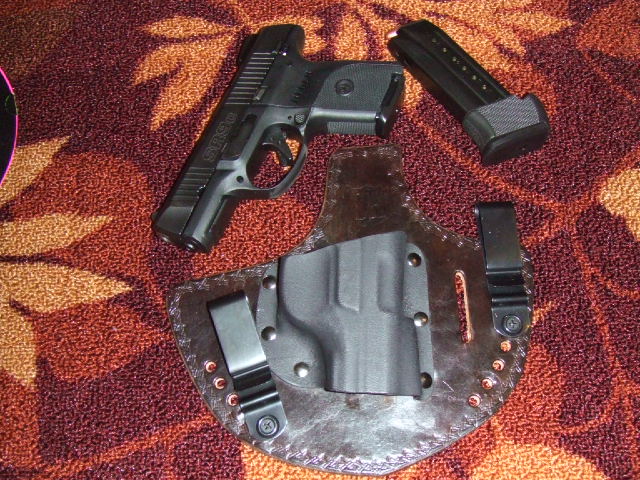 Read lots of good reviews about how comfortable they are but after trying it for a couple weeks have just about decided it will not work for me and you'll probably see it in the classified section soon. Nothing major wrong with it, just not working with my build and daily activities.