Discussion Starter
·
#1
·
Star Super "P" .45 ACP.
One of the members of the club donated a Star Super "P" .45 ACP Pistol for our training programs. The pistol was made in the early 1960's and was bought in West Germany while the member was in the US Military. It is in excellent condition and fired very little. The pistol resembles a 1911 but there are many differences:
1. Magazine safety.
2. Take down lever on the right side of the pistol.
3. Hinged trigger.
4. No grip safety.
5. Mainspring housing is not removable.
6. Barrel has no link, it is like the Browning High power
7. Safety locks the hammer back and can be applied when the hammer is at half cock.
In the early 1970's I had 2 Star Super "P" Pistols. One in .45 and one in .38 Super. Both of them were very well made as is the sample I am discussing here.
The ammunition I used to test the Star was WCC 1971 Match hardball 230 gr and WW 185 gr Match jacketed wadcutter. Both types of ammo fed flawlessly. One interesting thing is I had some TZZ 1981 185 gr USGI Match wad cutter and it would not feed. The ammunition looks identical to the WW wad cutter ammo but apparently it isn't.
Here is a photo of the pistol;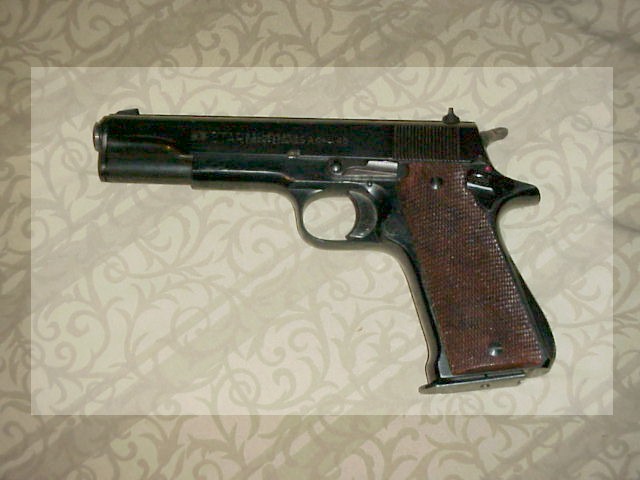 Here is a photo of the target fired at 25 yards with one hand (slowfire). The 185 gr wad cutter ammo shot higher than the 230 gr RN ammo. I believe this is because the bullet leaves the barrel sooner with the higher velocity ammo and the barrel is in a lower attitude in relation to the target. In each circle, there are 10 shots. I fired several doubles on the target. This is very acceptable accuracy for any service grade .45 ACP Pistol fired with one hand at 25 yards. It was a pleasure to shoot this pistol and it is an asset to our club for our training programs.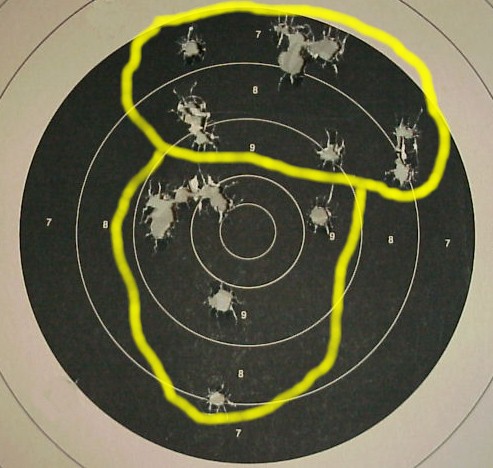 Doug Bowser