I dunno, I just don't understand how a zero turn would be more likely to slide or tip than a conventional. Mine has cut my mowing time in half at my place. And it has a cupholder, lol. And a handy little "tray" to keep the snake tamer.

I do know that I'll never buy another John Deere mower. Several family members and a couple of friends have had them, and all of us had nothing but problems with them. Originally, I didn't mind paying more for it because I figured I was paying more for better quality. Nope, seemed like something was always breaking or wearing out. And parts were stupid expensive. My little Toro zero turn has cut more grass than I care to think about in the last eight years. So far, other than the ignition switch and replacing the spindles/pulleys, all I've had to do is change blades, oil, and filters. Planning on taking it in for a good all around service this fall, though.
@BasMstr
... my local John Deere dealer's "rep" looked over my property, and they are well familiar with the "terrain" in this county. They firmly recommended against buying a "zero turn" type mower. "Tip over" & slipping & sliding on slopes is the real concern it seems.
(Had I thought a "zero turn" would safely work on all of my "yard"... then that's what I would be posting a photo of here!!!)
Both of my John Deere riding tractor type mowers came from a John Deere dealer... neither one was available from a "big box" retail store (e.g-
Lowes, Home Depot, etc
.).
Each proved to be very reliable... almost boringly so... with hardly any service other than blade changes, oil & filter changes... etc. The first one was recommended to me by my late brother... and he certainly didn't mislead at all... speaking to the "reliability" factor. He owned a J.D. GT 265 at the time... & typically "trading up" to progressively larger J.D. tractor type mowers. (But his 3 acre property is as flat as a "table top"... and that nice GT 265 was eventually traded for a J.D. "commerial" grade zero turn mower... perfect match there.)
My cousin up the road has one like mine (albeit his has a 48" deck)... but he's mowing lots of grass on his "estate"... at least once or twice a week...!!!
Here's a pic of my late neighbor and friend Robert Vinson who lived up the road from me, while sitting on his J.D. X590 riding tractor mower... (
he was/always a U.S. Marine and proudly flew the Marine banner flag on the front of his home
)... and this ol' guy was "tough as nails"...!!!
(That's not Robert's home in the background... but his neighbors. Said home burned down to the ground about a year later...
)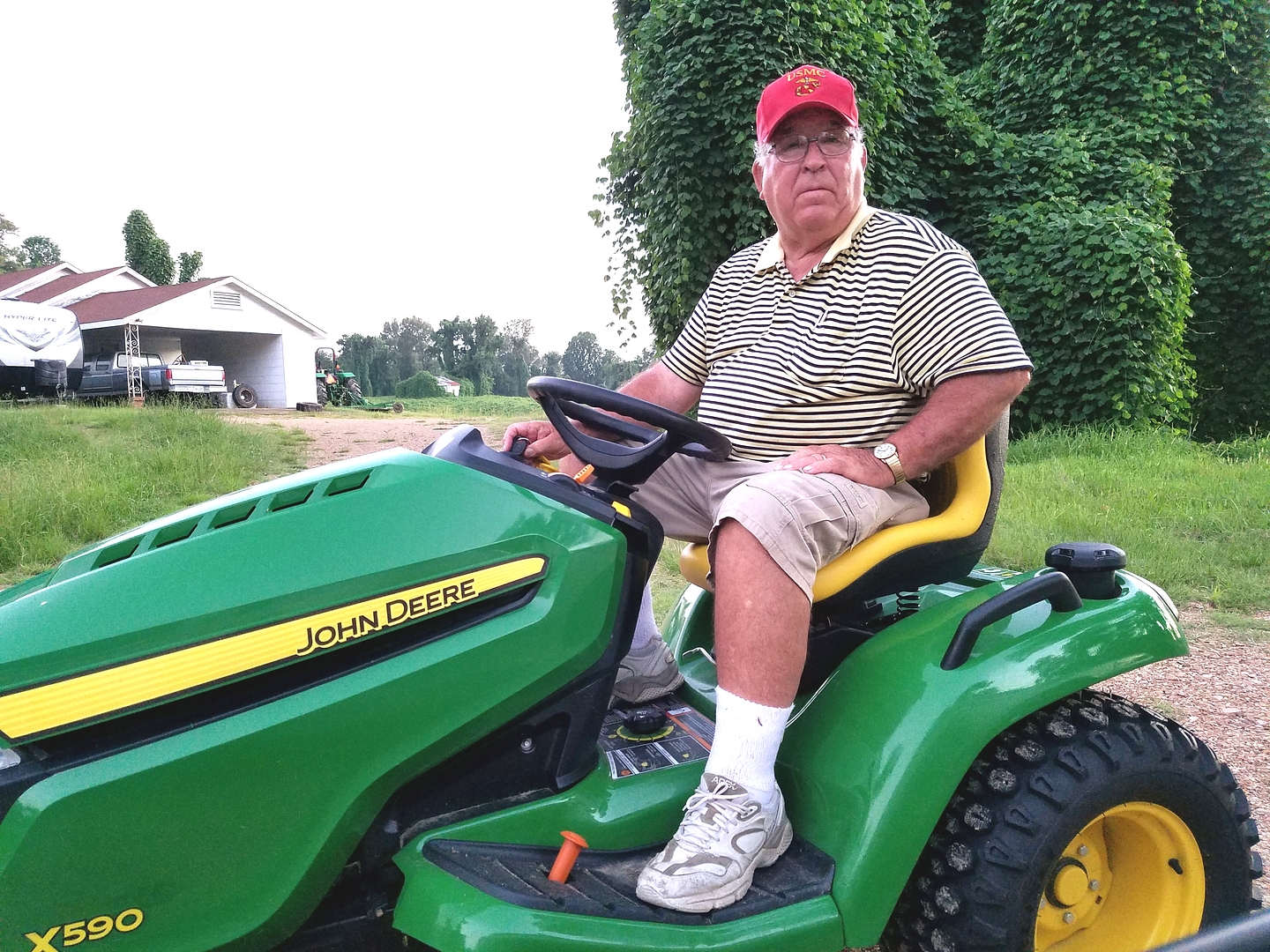 Some of the folks around here have "tried" a zero-turn... but they didn't keep it very long...!!!